For several years I had been hearing about W2 Pro Team member Ed Hall's adventures fishing the Albemarle Sound and wondered if I might want to experience fishing that area of the country. With a small window of free time before my son headed back to college, we made plans to visit at the beginning of August during a coincidental cool down.
This northeastern North Carolina fishery is vast, over 200,000 acres between the Alligator River, South and East Lakes and it holds too many fish species to list them all, but the most common fish caught include striper (rockfish), largemouth bass, red drum, chain pickerel, white and yellow perch. It's not unheard of to also catch flounder and speckled trout while actually fishing for the above.
There's really no way to fish this marsh bank and cypress-lined paradise all in one lifetime; there just too much water in an estuary that starts with the Roanoke River and includes six other tributaries including the Chowan.
That's why I consulted with Hall. He told me he discovered the region 30 years ago thanks to a friend whose grandparents owned a place in Colington Harbor. It wasn't until early 2012 that he really found out how good the fishery was, though.
"We made a trip taking our saltwater boat and a bass boat. It was the last time the Mako went to the Outer Banks. The second year we took two bass boats and afterward were visiting two to three times a year. I also met a fellow by the name of Paul Mann (of Paul Mann Yachts) that shared a lot of his big bass knowledge with us. But there were other locals that will tell ya 'don't waste your time, go to the beach'. It didn't take us long to figure out why!"
Hall was kind enough to mentor me on the specifics of this adventure, so we didn't waste time fishing unproductive areas or using the wrong lures. We fished out of the Woods & Waters/Anna's Marine Center TRACKER Grizzly 2072 CC with a 115 Mercury 4-stroke and a Minn Kota Ulterra and Humminbird DI, SI and GPS equipped depth finders.
On this too short, two-and-a-quarter day visit we focused on East and South Lake and the Little Alligator River – pretty much right behind the Outer Banks or along what locals have dubbed the Inner Banks.
Our base camp was the Dare Motel in Manteo, that was just 15 minutes from the North Carolina Wildlife Resources' East Lake launch point off Mashoes Road in the Alligator National Wildlife Refuge. The owner and staff of the motel were welcoming and accommodating (we had our own place to park the Grizzly, an electric hook-up and a hose) and the rooms were clean, beds soft and comfortable. The AC was new and the shower water hot and plentiful.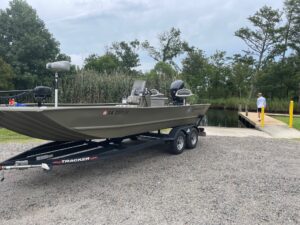 Day 1
On this day we left W2 headquarters in Louisa at 6 am and were fishing by 11. On the way down we avoided main roads and HWY 12 through the Outer Banks, instead heading down I-95 to Franklin and eventually Creswell, NC. The drive was a little longer but featured virtually zero traffic.
We launched the Grizzly with no problem at the free NC ramp accessed by a short, gravel road and headed to one of the many areas Hall recommended. I had studied Google Earth, a GMCO Chart Book and had the Humminbird base map on split screen, so I had some sense of our surroundings. I don't think we ever saw water deeper than 10'. What is important to account for is wind and distances. You will be travelling across open water to get to the sweet spots and if the wind gets up much past 15 mph I don't recommend launching anything under 20'.
Our first stop found us just behind the open water of the Albemarle Sound to fish a classic canal and pond that reputedly held largemouth bass, striped bass, redfish and speckled trout. It was breezy and spitting rain when we started casting; my son a white/chartreuse MES Lures wobble jig and myself slinging a different lure every six casts to try and figure the bite out.
It didn't take long before we had our first fish on. My son made a cast in front of the remnants of an old duck blind along a marsh bank, turned the reel handle a couple times and a substantial fish immediately swirled his wobble jig. There was about two feet of water with weeds here, so the fish burrowed down after manhandling my son's 7'3" ABU Garcia Vendetta casting rod and Revo X combo. We made our way to it with the Minn Kota only to see it dart away time and time again in the tannin-stained water. After a few tense moments the fish was ready enough for the net and we discovered it was a fine drum.
The fish weighed 7.22 pounds and taped 27.5", just under the 28" maximum size limit to keep. My son was ecstatic catching his first redfish so quickly. I was impressed, too. We slipped the impressive fish into the livewell for observation and photos as a passing shower had us tuck deeper into our rainsuits.
After a few minutes, Mitchell decided the fish was too magnificent to eat so he gently released it. I know many of you that have enjoyed blackened redfish before just said, "Ooofha!", but it was his fish to keep or release.
For the next four hours we fished the canal that led from the "pond" and caught several largemouth bass and two dozen striper up to about five-and-a-half pounds – most on the wobble jigs, which I found most unusual. I think the bait must have resembled a shrimp because they really crushed it. I also caught fish on a Johnson Silver Spoon with split tail eel trailer.
By late afternoon we made a move back toward the ramp, which was about five or so miles away. We chose a cove with a little gut emptying into it that Hall had suggested we try. Out at the point we caught nothing. On a few remaining posts from a duck blind in the middle of the cove I caught another largemouth on my old-school spoon. But it wasn't until we reached the gut that we discovered what would be a pattern we could replicate.
Here Mitchell had a school of 30 redfish follow up his wobble jig and take turns engulfing it and spitting it out. I also lost one on the spoon. Those darn things are difficult to hook with a downward facing, fleshy mouth!
When the reds scattered, we began catching more rockfish – again on the wobble jig. You didn't just catch one and they spooked either. We caught nine or 10 before they stopped biting, and I mean we were waaay back in a gut, not more than 15' wide.
Final tally for Day 1 was a beautiful red drum, 23 striper and five largemouth bass. We were back at the Dare Motel by 6 pm, showered and enjoying a plate of fresh flounder and shrimp at nearby Darryl's Restaurant by 7 pm. I drifted off to the sound of the AC fan and NFL preseason football around 9:30 pm looking forward to getting up early and trying more of Hall's suggested fishing spots.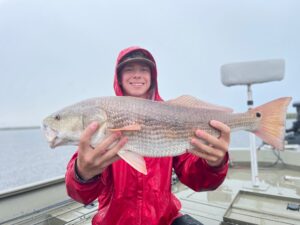 Day 2
On this day we again launched at the Marshoes Road ramp and headed out into East Lake to an area we could not fish on Day 1 due to windy conditions. Wind was predicted to hit 10-15 mph, so the early start got us across the big water and fishing a lee pocket on the north shore of East Lake. Remember, this area really doesn't have great tidal swings. The wind tends to move the water more, so one must pay attention to that factor as well.
Here we found the obligatory duck blind and lots of shallow water with grass. Mitchell has never caught a fish on a topwater frog so he started out with that and soon realized why one must use braided line for this tactic. He had many hits, but no bass came to the Grizzly. I caught a rockfish within five casts off a duck blind pole (yes, striper here hold on duck blinds).
We next worked our way back into the marsh gut that fed the pocket. All the good guts we fished had hard drops and undercut banks where fish would dart out from and engulf our baits. Grass grew on the bottom from the drop to the shore. Back in the guts the bass were inside channels and right on the undercut banks.
Once again, we encountered rockfish in the middle of the gut, no redfish, though. On the way out we noticed something floating in the middle of the cove. Trash, log, float vegetation? When we had fished back out far enough that the sun was shining on the mystery flotsam, we realized it was a massive alligator! Dang thing had been watching us all morning catching his fish. While gators are present in this system, they are rarely seen, so we considered ourselves fortunate to have spotted one.
From East Lake we navigated the Grizzly over to South Lake – about a five-mile ride and began fishing more of Hall's suggested spots that all included a cove with a gut. The wind was getting up, so I tried to find lee banks to fish.
We hit four and three of them were loaded with fish one had reds, but they remained very apt at biting and avoiding our hooks. In one stop, where two guts met, we caught rockfish, pickerel (many of them) and largemouth bass on cast after cast. The bass were typical swamp donkey fish – dark on top and gold/white on the belly and mostly around 1.5 pounds. They would eat the wobble jig, the spoon and a red shad u-tail worm rigged Texas-style along the banks. Pickerel and striper were right down the middle.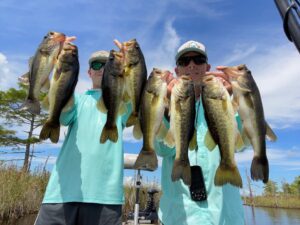 By 1 pm we headed back to the ramp, put the Grizzly on the trailer and drove the 45 minutes over to the Fort Landing boat ramp in the back of the Little Alligator River. We wanted to fish some "ponds" at the mouth some 10 miles away, but the wind and waves were too much. Instead, we fish about three miles from the ramp at the mouth of a canal with a duck blind.
Here we found whirlpools of shad and gamefish occasionally harassing them.
Within minutes my ultra-lucky son had made the perfect cast and a big fish struck his wobble jig. As he fought the fish, it dove under a tree limb (there are lots of these on the Little Alligator) and it jumped on the other side and threw the wobble jig. Turns out, it was a bass probably seven pounds or better. We were heart-broken but encouraged to know that some big fish were available.
We stuck around that area a bit longer and Mitchell struck again, this time, another redfish, around 19", and I caught a small largemouth bass. We did try to run to the mouth of South Lake but were turned around by some nasty rollers churned up by 15-20 mph north winds.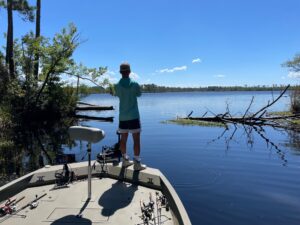 After 10 hours in the sun and wind, I was toast, and we had a 45-minute ride back to Manteo. Once the boat was put up, we feasted on fried shrimp and a wagyu burger for dinner then crashed hard back at the room and again fell asleep watch a football game hoping to get a couple hours more on the water in the morning before heading home. Pretty much the perfect day, right?
Day 3
On our final day we woke up early and fished a creek system off Marshoe Road accessible by a very unimproved ramp. That pesky northeast wind was blowing early so we had to stick to a creek that led to a pond and then exited via a canal. I gotta be honest here, the Minn Kota let us down when it malfunctioned just after I caught a solid bass in that canal on my spoon. Instead of fiddling with the motor, we manually stowed it and headed back to the ramp a little disappointed. The Country Chevy Colorado had no problem yanking the Grizzly out of the sand and mud launch point in 4WDL and we were headed home by 9:45 am.
This was a trip that featured incredible scenery (we saw three mini tornados from a distance of about 20 miles away across the Sound, otters, eagles, ospreys, rails, an alligator and many ducks), a diverse fishery and just three other boats in three days. I must say the help we received from Hall was essential to our positive experience on such a vast and new-to-us fishery. From the accommodations to the fishing spots, Hall basically outlined a path to success. Few anglers will share such detailed information that takes years to learn, and I am grateful for such unselfish kindness.
This was an invaluable shallow water fishing experience for my son, just before he headed back to Virginia Tech for his junior year and second year on the Tech Fishing Team.
I can highly recommend you try this fishery if you are looking for an unpressured place to catch bass, striper and the occasional red fish with a bunch of "bycatch" species. It's just remote enough (4.5 hours from central Virginia) and yet offers plenty of "apre fishing" places to dine and visit. If you are heading to the Outer Banks for a family vacation, consider booking a trip with guide David Ward, as he guides on the north side of the Albemarle Sound.